Zinnias, a Blue Vase, and a Red Chair - Inspired by Francis Cadell
Apr 07, 2021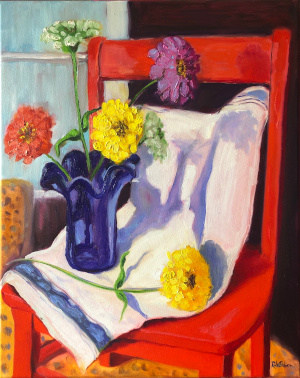 Recently I've been studying works by Scottish Colourist painters like Samuel Peploe, Francis Cadell, and John Fergusson. They intrigue me, mainly because of their bright, emotional, and fabulous use of color in their paintings. This appeals to me particularly because I've been slathering the canvas with bold color since my painting inception. And, if you've looked at my paintings, or browsed my website, there's no mystery that the color red typically pervades my work. Anytime I see red boldly used in a painting, it immediately gets my attention, as I'm sure it does for you.
When I looked at Peploe's still life paintings of flowers, I was captivated. But even more so, I was taken by the paintings of Francis Cadell. In his still life scenarios, he often used a bright red chair, which I just couldn't seem to clear from my mind. In like manner, I decided to do the same, combining some familiar items used in some of my previous paintings (red chair, zinnias, a towel, etc.). What you see in the painting below was directly inspired by Cadill's paintings.
Being a self-taught painter, most of my endeavoring within the art and painting world has been done on my knees, finding and feeling my way. Nonetheless, this hasn't stopped me from experimenting with color and style in various ways. To be honest, if I observe a certain flair, style, or use of color in another artist's work, I often try to incorporate the same technique into mine. I think this has been the case for artists throughout the centuries. We learn from one another and copy the things we like, and leave the ones that we don't.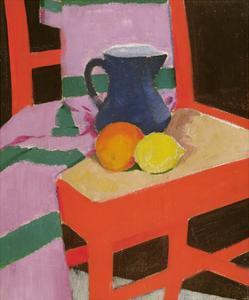 That being said, the painting you see above was directly inspired by Cadill's painting, "The Red Chair." (Shown here to the left) While mine is quite different, it still inspired me to create this painting. I originally had placed a yellow pepper next to the blue vase, but later decided to change it to a single zinnia flower. It just makes more sense. As with most paintings that I do that contain zinnias, this one has a bright, happy feel, which hopefully is conveyed to the viewer. You be the judge!
If you find this painting interesting, you can check it out by clicking on the image of the painting for more information.